Compost Education for Kids and Adults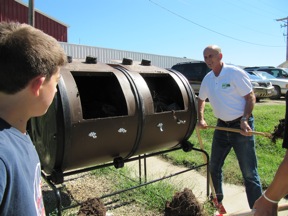 Compost has become a hot topic these days for many good reasons.  Do you need or want to teach composting to people?  Compost education - what you will find here - is dedicated to helping you learn about and teach composting successfully.  
Compost is at the center of a web of issues - from sustainability and climate change, to organic food, gardening, and even water-saving compost toilets.  With our Compost Blog, and our educational products, we'll strive to provide you with the information you need to be successful at your composting project.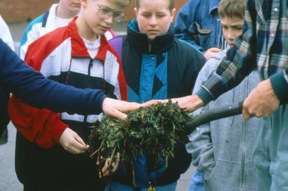 Whether you need to educate an entire city about composting, teach composting to kids in a classroom, present a compost workshop next week, or bring in a
Master Composter Trainer
, you'll find answers here.  Whether you want to start a
red wiggler worm colony
in your classroom, hang a
compost poster
to remind yourself, or play a great
compost card game
to bring your family on board, you've come to the right place.
Thirty years ago I needed to protect my water source from pollution, so I researched and built my first composting toilet.  
Twenty years ago I was tasked with educating Kansas City, Missouri, residents about composting in the wake of a law that banned leaves and grass from landfills.
Since then I've been developing and testing educational resources, and networking with outstanding compost educators nationwide.  I've found that lively music can teach about composting and worms in a way that students really enjoy. I've answered thousands of questions about composting, in person.
That said these two web sites are specialists at all things compost.
Hopefully
my blog
will answer those composting questions for you as well. 
You'll find
games
,
posters
,
learning guides
,
music
,
red wiggler worm help,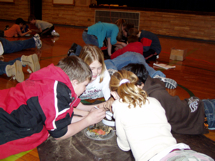 in the product section and lots of just plain practical advice here in this blog.   The games and posters are perfect tools for composting workshop presenters. 
So, dig in, and let me know if you need something you don't find here.                         
                               ----- Stan
 To bring Stan in for a Compost Keynote or a Compost Workshop, contact him here.